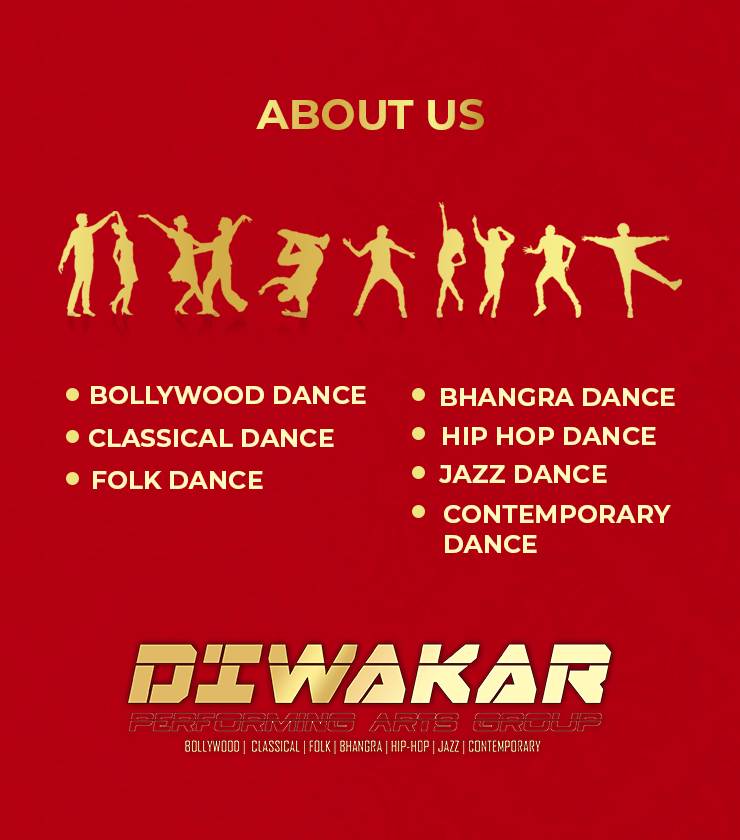 DIWAKAR PERFORMING ARTS GROUP, INC.
America's original and the tri-state's largest and professional Bollywood dance school & dance company. Our dance school proudly offers Bollywood dance classes for all ages & Bollywood fun & fitness class for adults.
DIWAKAR PERFORMING ARTS GROUP
Our Dance Company and Event & Entertainment Division provides full service entertainment for every occasion. Be entertained by our electrifying, professionally trained Dance Troupe. Take your next event to Bollywood heights or bring a traditional or classic flavor to your event. We also provide costume rental, live entertainment and wedding choreography for groups, families, couples and singles and private lessons for all occasions.
Mr. Anil C Diwakar, Artistic Director & Choreographer of Diwakar Performing Arts Group, Inc. began teaching & choreographing in the USA in 2004. Prior to establishing in the US, Anil Diwakar's Mumbai professional profile began in 1995. With much hard work and dedication, he began working with the biggest Bollywood Stars in Mumbai & abroad, dancing on world tours, awards shows & movie music videos working under famed choreographers: Ganesh Hegde, Longinas Fernandes, Cesar Bosco, Saroj Khan, Raju Khan, Papu Malu, Ahmad Khan, Rajiv Surti & Geeta Kapoor.
Reaching beyond the Bollywood stars Mr. Diwakar also performed for US artists like R & B artist, Ashanti, Dinah King and the most revered, 1996 Mumbai Opening Act for the legendary Michael Jackson. Fast forwarding to today, promoters and stars alike have one common preference when producing and performing an official US Bollywood Event- Mr. Anil Diwakar.
Diwakar Performing Arts Group is a well established, highly recognized Professional Bollywood Dance Company for the past six years providing entertainment services in Bollywood Entertainment. We provide authentic Bollywood entertainment at Dinner Galas, Dance Galas, Corporate Events, Community Events, Star Nites, Star Awards, Conventions, Upscale and Exclusive Weddings and Sangeet.
We are the original and first company in the United States to provide Professional Bollywood USA Based Dancers for South Asian Stars of India, Pakistan and Bangladesh. Our services simplify the process and hassle of providing a Dance Troupe to South Asian Promoters to accompany their stars in their performances at live concerts well as entertainment and choreography services provided by Mr. Anil C Diwakar. With, Mr. Diwakar's high-profile and highly respected reputation for choreography and dance in Bollywood, he is first choice and preference when selecting a choreographer for all events across the Bollywood Spectrum.